by Bobby Carlton and Dilmer Valecillos
Unity, MRTK, Needle Tools and 8th Wall are just some of the tools you'll need to develop!
The Meta Quest Pro is available now and we have already seen some very cool things being teased from developers leading up to its launch. Of course, in order to develop, you need an amazing set of tools. Our Head of R&D, Dilmer Valecillos took a moment to take a deep dive into some of the top development tools you can use with your Quest Pro headset to develop and launch your own XR experiences.
In the video, Dilmer gives us a little bit of comparison of between the Quest Pro and the recently released Magic Leap 2 MR headset. He also gives us some perspective on color passthrough and what that will mean not only for the Meta Quest Pro, but for XR in general.
Some of the tools mentioned here are Unity, Unreal, MRTK 3, Needle Tools, 8th Wall, and Mozilla, and a brief skimming of how to use them for the Quest and deploy your builds.
All of these tools along with others will be essential for you to develop incredible XR experiences on the Quest Pro headset that you can bring into your workforce as a training platform, or used for social events and entertainment.
You can expect an even deeper dive into the Meta Quest Pro in upcoming posts here on our blog and on our YouTube page.
Create a roadmap to Industry 4.0 by adopting a sequence of technology upgrades while also removing outdated systems.
By Bobby Carlton
The rise of Industry 4.0 has created new opportunities for manufacturers to improve their efficiency and deliver new revenue streams. Through the use of advanced analytics, XR solutions and machine learning, companies are able to collect and analyze crucial data to improve their operations.
The benefits of implementing advanced analytics and machine learning are numerous, such as improving product quality and reducing production downtime. However, implementing these technologies in a large-scale manner can be a bit of a challeng for some due to the lack of engagement and legacy operations.
The rapid emergence and evolution of Industry 4.0 has created a huge opportunity for companies to improve their efficiency. According to a report by Statista, the market for advanced analytics and machine learning is expected to reach $1 trillion by 2028.
The increasing interest in using sensor networks is due to their ability to create feedback loops to improve the efficiency of manufacturing operations. This process can help identify "hidden factories". These are bottleneck points or costly problems that are miniscule but in the long run can slow down production.
At the same time, you're able to use technology for predictive maintenance, explore what-if scenarios, and reduce the costs of operations and highlight advanced analytics.
Despite the widespread use of Industry 4.0, many companies fail to collect and analyze data quickly enough. This is because companies tend to implement the technology in a way that's faster than it can be used.
The biggest barriers to the implementation of Industry 4.0 are the legacy mindsets of employees and operations practices. Despite the significant investment in new technology, these practices still prevent companies from fully embracing the potential of Industry 4.0.
One of the core challenges industries face in embracing the potential of Industry 4.0 is the lack of standardization. This is because there are many different ways of working that make it hard to identify the most effective ways to improve productivity and reduce risk.
Some employees will revert to the old ways of working when new innovations are introduced. This is because they don't trust the new technology such as robotics or XR, and are afraid to take on the new challenge. The value of implementing new technology is not realized until the old methods are phased out.
One of the biggest factors that prevents companies from fully embracing the potential of Industry 4.0 is the lack of preparation. Although many companies have the necessary resources to implement advanced software and sensors, they underestimate the training requirements of their workforce, they lack a strategy to blend new workflow methods into traditional approaches.
A great example of this is introducing VR headset into the workforce. You need to consider what is the strategy to do this with the least amount of disruption and the least amount of employee alienation.
A plan should be developed to avoid the trap of buying technology that's not being used properly or doesn't deliver the desired results. You should consider a more measured approach to the transition process that involves addressing cultural norms and systems thinking.
This step will help companies develop a comprehensive plan that will guide their efforts in implementing Industry 4.0. It will also help them identify the most effective ways to improve their internal processes through technology.
One of the most important factors that employers should consider when it comes to implementing Industry 4.0 is identifying the most critical problems that will drive their transformation efforts. Unfortunately, many companies only install networks that are made up of hundreds of sensors and then try to solve them using a solution that's not designed to solve them.
Start small. For example instead of creating a digital twin of an entire factory floor that included interactivity, high fidelity 3D art, and avatars. You should start off by building out a single room or a section. Take a basic scan using LiDAR to introduce the virtual environment and use that as a foundation to introduce your employees to it. From there, you can then scale up and build off of those successes. 
Have a moderated approach that involves identifying the most critical problems that will drive their transformation efforts. This step will help companies identify the most effective ways to improve their internal processes. One of the most important factors that employers should consider when it comes to implementing Industry 4.0 is engaging their employees to identify the most critical issues that will drive their transformation efforts.
This exercise can help you identify the areas where they can make improvements. Another important factor that employers should consider is putting in place processes that can reduce the time it takes to implement the technology.
Before implementing Industry 4.0, it is important that employers adopt a sequence of technology upgrades while also removing outdated systems. With the help of advanced algorithms, sensors, and cloud platforms, workers can gain new insights. Unfortunately, once they encounter problems or outdated methods of working, they will revert to their old ways of doing business. So it needs to be a commitment.
To help the workforce adapt to the new technology, companies should introduce incremental and tightly scoped initiatives. Doing so will allow them to easily digest the changes and improve their performance. However, it is also important to remove outdated systems to prevent your teams from returning to their old ways of doing business.
This Meta SDK will bring hand interactions to your XR experiences.
By Dilmer Valecillos
Originally posted on LearnXR.io
Today I am super excited to share an announcement regarding the following new SDK which I believe will be a huge addition to anyone who wants to work with VR or Passthrough with Oculus, also be sure to watch THIS HAND INTERACTION SDK VIDEO and trust me that it will be worth your time.
The Oculus Interaction SDK is a hands and controllers interaction components library which provides very realistic interactions and allows to easily use prefabs when building games or apps for virtual reality with and without Passthrough features.
‪📌 To get started with the Interaction SDK be sure to check out this document with requirements and download links: https://developer.oculus.com/documentation/unity/unity-isdk-interaction-sdk-overview/
The following sample scenes are available in the Interaction SDK:
👉 Basic Grab scene which showcases a scene with the HandGrabInteractor
👉 Complex grab scene which showcases a scene with the simpler GrabInteractor but with the addition of Physics, Transforms and Constraints on objects.
👉 Basic Ray scene which showcases ray interactions with Unity canvas.
👉 Basic Poke scene which showcases UI interactions such as buttons, scrollable areas, and box-based proximity fields.
👉 Basic Pose detection scene which demonstrates pose detection for several common hand poses such as Thumbs Up, Thumbs Down, Rock, Paper, Scissors, and Stop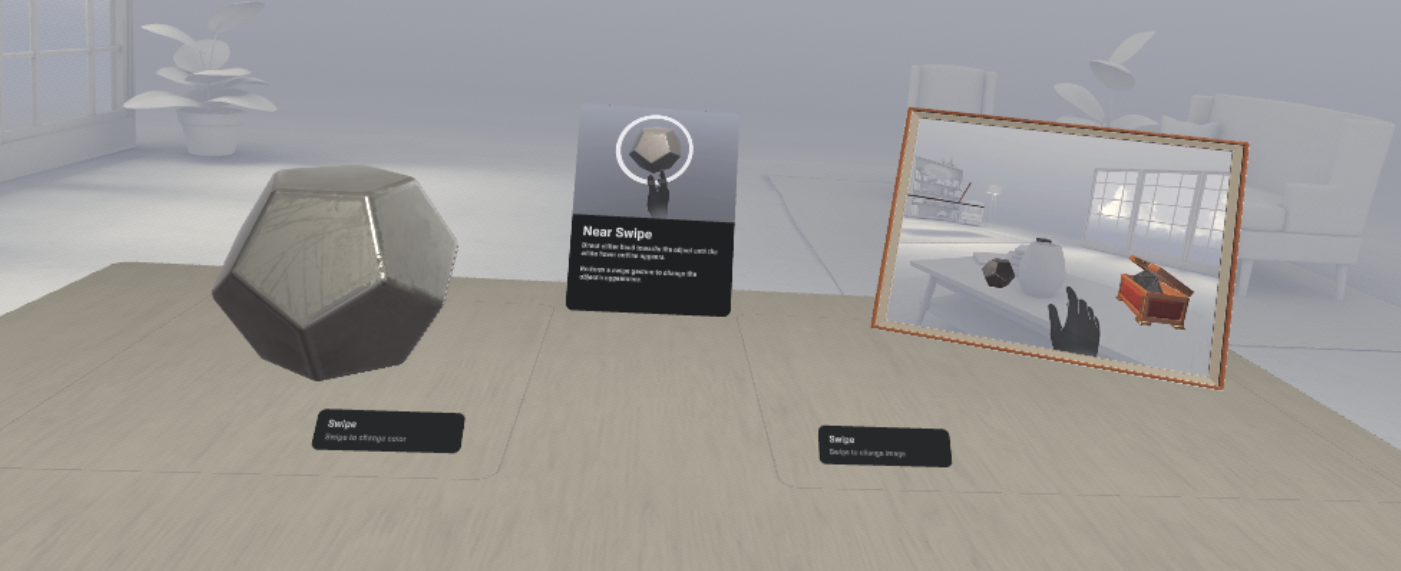 Let me know if you have any questions after watching this announcement and know that I will personally be covering every single feature available in the SDK and I am working closely with Oculus to make sure I have all the info I need for future videos.
This new announcement and video series also contains source code examples which you can access from GitHub today.
Thanks everyone and enjoy it 🙂 time to play with XR !
Dilmer
By Bobby Carlton
Technology is evolving faster than ever, so are the myths about VR and AR training. With this rapid development of technology, companies and industries are more than eager to integrate and use these technologies for product innovation, research, and development. Emerging technologies like simulation technologies, Augmented Reality (AR), Virtual Reality (VR) are progressing very fast alongside their convergence with technologies like Artificial Intelligence (AI) with Machine Learning (ML) and Deep Learning.
Not only is technology evolving, but its acceptance and adoption among the general consumers and public is also increasing. We can see that by the rapidly growing market of these emerging technologies. Furthermore, the move of the whole industry towards their digital transformation to prepare themselves for the next industrial shift, the Fourth Industrial Revolution (FIR) or Industry 4.0, is also propelling this adoption faster.
Read more: Why Should You Be Paying Attention to WebXR?
However, due to a lack of adequate general awareness of these technologies, people may hold onto certain misconceptions. Sometimes due to insufficient sources for additional knowledge or sometimes even through the deliberate spread of wrong information. Although the world is moving towards a haven for digital technologies and cutting-edge innovations, these rumors or misconceptions can keep this movement from reaching enough people.
To understand these misconceptions and differentiate between myths about VR and AR training and reality, we first need to know enough about these technologies.
What are VR and AR?
AR and VR are mixed reality technologies or also sometimes Extended Reality (XR) technologies. These XR technologies can streamline various services and product experiences to enhance their capabilities and help companies provide their customers with more affluent and enhanced expertise. Moreover, companies and these technologies can also help companies by enabling various product innovations and newer R&D technologies.
Augmented reality (AR), enables interactive experiences with real-world environments and various elements. AR allows the enhancement of these environments and features through different digital information and sensory feedback. For instance, AR systems can use multiple digital aspects like overlays, visual graphics, and elements alongside other elements like sound and sensory elements like haptic feedback.
The AR system delivers all these elements to immerse the user in the AR environment completely. However, AR systems also must be careful of not overusing digital features or making them unable to blend in with the real-world elements. Since the goal of any AR system is to immerse the user in the new world that it creates by augmenting these digital elements with real-world stuff.
Virtual Reality (VR), on the other hand, provides an entirely virtual experience. VR technology enables interactive experiences with a completely virtual world. The VR system builds upon a computer-generated 3D world. The VR system places the users in this 3D world consisting of different environments and virtual objects alongside sensory feedback, including sound and haptic feedback. As with the AR systems, the VR systems also deliver all these visual and sensory elements to the user. Along with this, the goal of a VR system is to blend all these digital elements in such a way to immerse the user in it entirely and make them feel like they are part of this VR environment.
Read more: Reason Why Big Companies are Using AR
AR and VR enable numerous possibilities in the entertainment sector and almost any industry and industry possible. AR and VR have their uses for rapid prototyping, design, development, maintenance, and monitoring various sites, machines, and objects from industrial and production environments to the aviation industry. One of the applications or uses of AR and VR comes in the training industry too.
Effects of the Myths About VR and AR Training and the Hype Cycle
Consider this scenario in industries like aviation, robotics, or space, for developing a respective product; these industries have to spend a fortune. The equipment, components, and systems necessary for these industries are costly, including considerable risk. This risk comes in terms of financial and resource wastage risk and terms of human lives.
Industries like these have a significant risk of losing human lives. When every new component, machine, or vehicle goes through testing and verification, human life may be at risk. Not only for testing but also during the whole developmental process with design, evaluation, and prototyping phases, real-world equipment and components are in use if AR and VR systems are not at service. Even a simple failure of these expensive and valuable components or systems may hamper the project's future or even companies.
Add in the mix of risk of losing human lives during the developmental phase, either for testing of the equipment, vehicle, or machine or even for training purposes of their operators, and the risk becomes very substantial. Since not putting human lives at stake is a significant factor in these industries, one should try as much as possible to avoid putting humans at risk in the first place.
It's where AR and VR come in. With AR and VR technologies in the fray, humans or even machines can go through the developmental phase and the testing or training phase without the actual need to put anything from the real world at risk, which means a much safer, faster, and efficient cycle of the project.
Similarly, soldiers can train in AR and VR in industries like the military with a complete immersion in a real battlefield without risking their lives. It can prove to be a real game-changer when training soldiers for their better performance and keeping them safe.
Furthermore, training pilots and astronauts in AR and VR simulations can eliminate the risks while also giving out real-like immersive training experiences for astronauts. Moreover, these types of training in AR and VR are also much more efficient, faster, and cost-effective compared to the substitution methods in use.
Hence, AR and VR training is evolving faster than ever due to these advantages and benefits, with various industries adopting these technologies swiftly. But this adoption of AR and VR faces several problems, including misconceptions and false myths. Therefore, we are going to bust the top 5 myths about AR and VR.
Myth 1) AR and VR Training is Not Effective
It is probably the most prevalent misconception among people. Even people familiar with AR and VR tech can fall into these myths about VR and AR training due to the lack of availability of these applications in the consumer market. But every other new technology gets labeled as a "gimmick." So often, new technologies get over-hyped and quickly disappoint end users due to the lack of fulfillment of those promises. But these also rely on the actual development of the technology and the effectiveness of research and end product.
However, AR and VR are genuine and effective innovative technology. Consequently, industries are already adopting and integrating these technologies in their training processes. For example, various aviation industry giants already use AR and VR to train to keep their pilots and even take their tests. Likewise, the Militaries of different countries are already using VR and AR for teaching their soldiers in different scenarios and environments. Furthermore, many organizations/companies/industries are swiftly moving or are in the process of adopting these technologies.
For example, Kellogg's used VR for market research and saw brand sales jump up 18%.
Myth 2) AR and VR Training is Costly
The myths about VR and AR training might have been true in the past, but today, even the most realistic and high-quality VR and AR sets are available for a few hundred dollars. Although this also may seem a lot for some but in comparison, this is very much cheaper. Moreover, the technology is also getting more reasonable and efficient; meaning, it will become more affordable and efficient in the future.
The use of AR and VR tech makes the product development and training processes more cost-effective and efficient. It is also data rich and can give you supercharged KPI's and can have a financial impact on an organization by cutting costs in the time it takes to train employees.
Some XR companies have found:
80% of users feel more prepared to do their jobs after using an XR training experience specific to their jobs.
82% of users think XR is better than any other training they've done.
99% of trainees recommend XR training at one large global auto manufacturer.
Retention rates of XR can be as high as 75% according to the Masie Center Immersive Realities for Learning and Performance report.
Myth 3) AR and VR Training are Too Complex
AR and VR technology have been progressing at such a high rate that today, it's possible to get these rolling with even a smartphone or a simple computer device. All you need is an AR VR headset or AR VR device, and you are good to go. The VR and AR contents are also widely available and easily accessible, making it easier to try them out.
Myth 4) It Reduces Physical Activity/ It is only helpful in Gaming/It is only helpful for Physical Training
XR (AR and VR) has a wide range of applicability. Although it's very famous today in the gaming industry due to XR technologies finding their way towards the gaming consumer market, it certainly is not only for gaming.
As discussed earlier, it can use its product development, enable new innovative R&D technology, and train. The training is also not limited to physical activity. VR and AR help you simulate various environments and conditions; it allows you to train people in virtually every setting, scenario, and condition.
Today I had a unique xCode scenario crop up that caused multiple files in my project to appear as missing (red in the project file list). First, the scenario…the project is held in a git repo and development is done using a modified git-flow technique. As such we are often merging feature branches in to the develop branch and vice versa.
After merging the develop branch in to a feature branch and then returning to the develop branch numerous source files appeared as missing. I verified the files still existed on the filesystem, deleted the files from the project and added them back in with no change in file status in xCode, they still appeared missing. I then deleted them again, re-added them to the project (still missing) and then tried to adjust the location setting of each file to be "Relative to Project". This did not work either. I made another attempt to add the files and then manually select the location of each file in the filesystem. Although the files were there xCode still showed them as missing.
Seeing no other option than to re-create the project file by creating a duplicate project with a different name I came across a fix. I created the new project and then proceeded to move all of the header files in to one of the new project's sub directories via the Terminal. As soon as the header files were moved, all missing .cpp files in the original project showed up (file names turned to black from red). I then moved the header files back to their original location on the filesystem and my original project was back in business.
I do not know what the underlying cause of this corruption was, but in the end the fix was to move the files out of their original directory on the file system and then move them back. Hopefully this saves another developer time trying to figure out why xCode chose to incorrectly mark some files as missing
Are you getting a clang error that you can't track down? "What the heck is 'clang: error: '-I-' not supported, please use -iquote instead'!?!" Oh compiler gods please help this poor soul. Well hopefully you haven't burned a day trying to solve this by tracking down project includes, compiler versions, and lord knows what else. The answer turns out to be head-slappingly easy, you've got an unsupported character somewhere in the project path. In our case we had something like this:
/Users/joeblow/Devel/Projects/WARU - Joe/testDir/waru/WARU.xcodeporj
[whitespace]
Notice the hyphen in there, that was the cause of all the pain. The fix was simply to remove the hyphen:
/Users/timwmartin/Devel/Projects/WARU/testDir/waru/WARU.xcodeporj
[whitespace]
Hope this helps someone out there!